SHOGUN SPORTS BACK CIRCLE™

The Shogun Sports Yoga Wheel has been designed to improve your flexibility and achieve more challenging poses. Our Yoga Wheel will help you to stretch your hips, abdomen, shoulders, chest and back. It will massage your spine in a safe yet deep way. It's the perfect addition for beginners and Yoga practitioners of all levels. 
The Yoga Wheel has a durable skid-resistant Eco Friendly TPE padding providing soft and comfortable sensation to your palms, shoulders, feet and back. The strong inner core is extremely strong and will support up to 500 LBS. 
The TPE padding has moisture resistant technology which makes the Yoga Wheel water-proof to keep it moisture and germs free! 
If you've been trying to get into a handstand, but can't seem to quite get there, our Yoga Wheel could be your missing piece. Learning your placement with the wheel as guide—and building that core and arm strength will prepare you to perfect hand stands.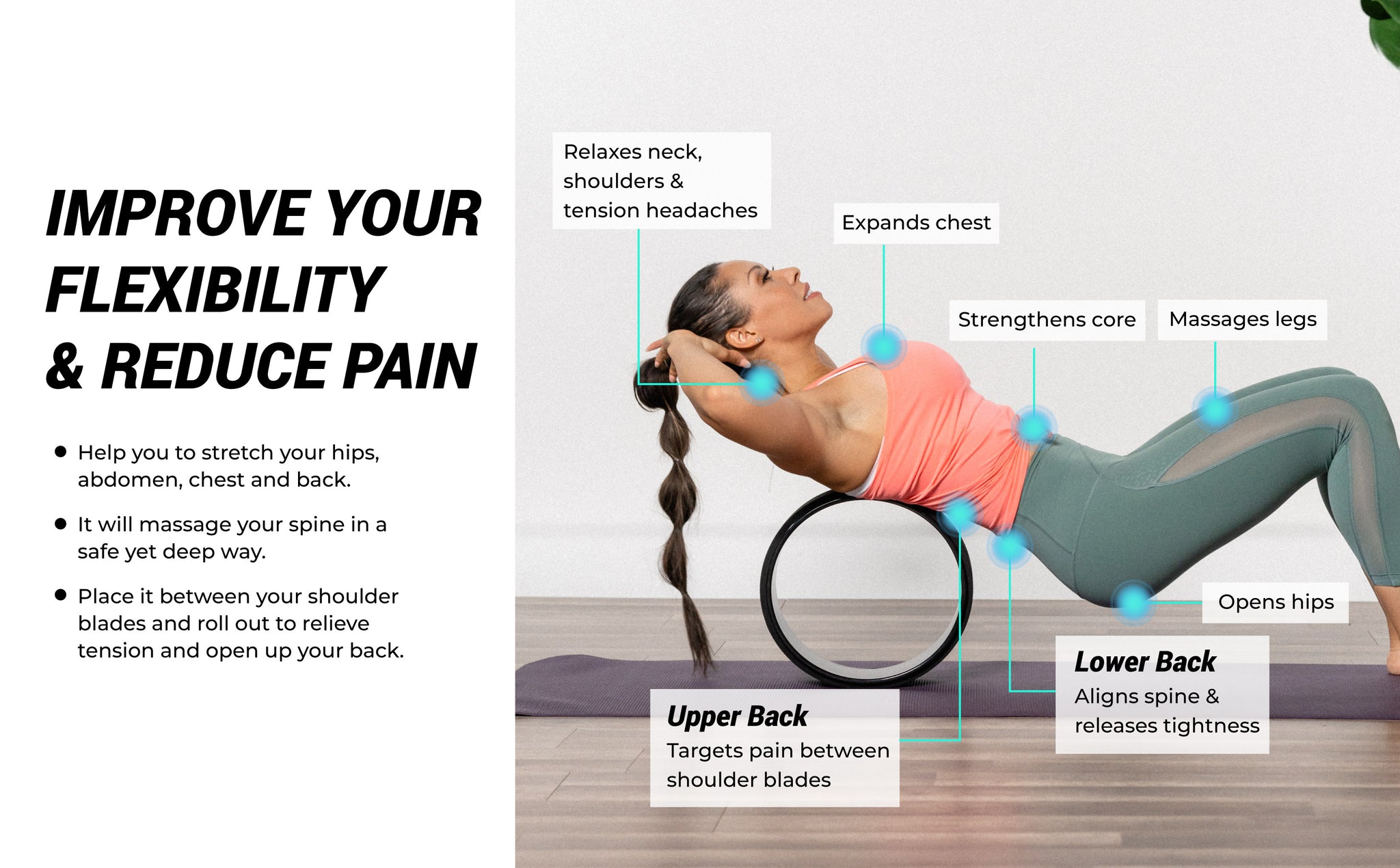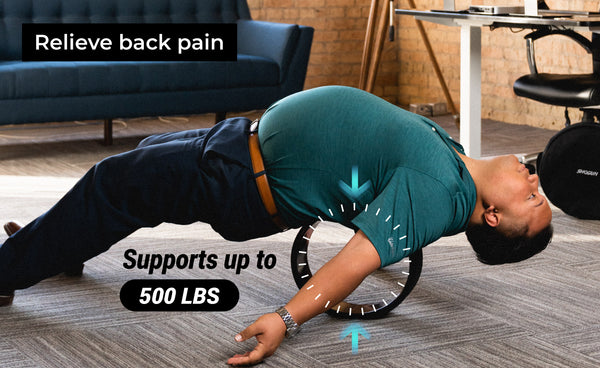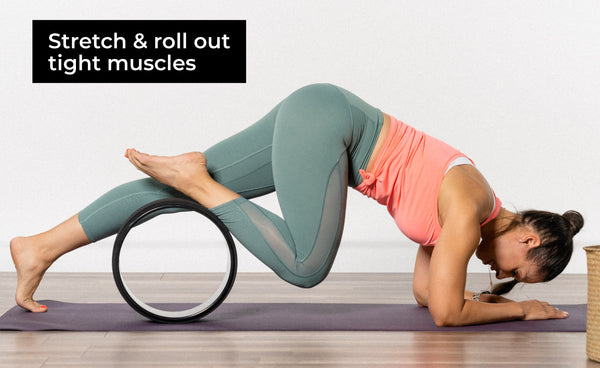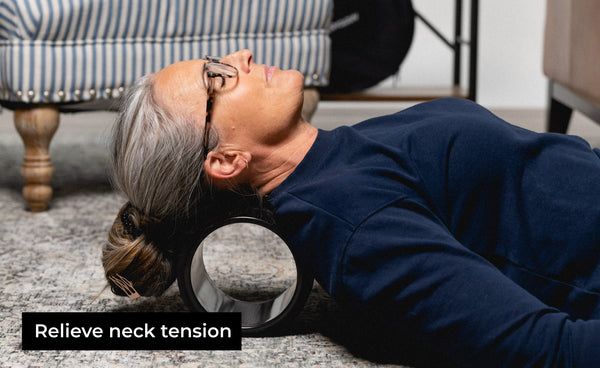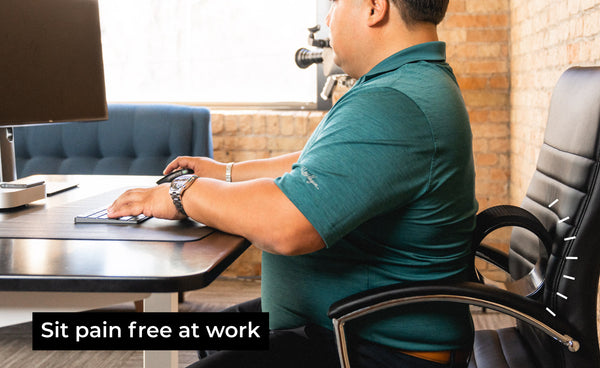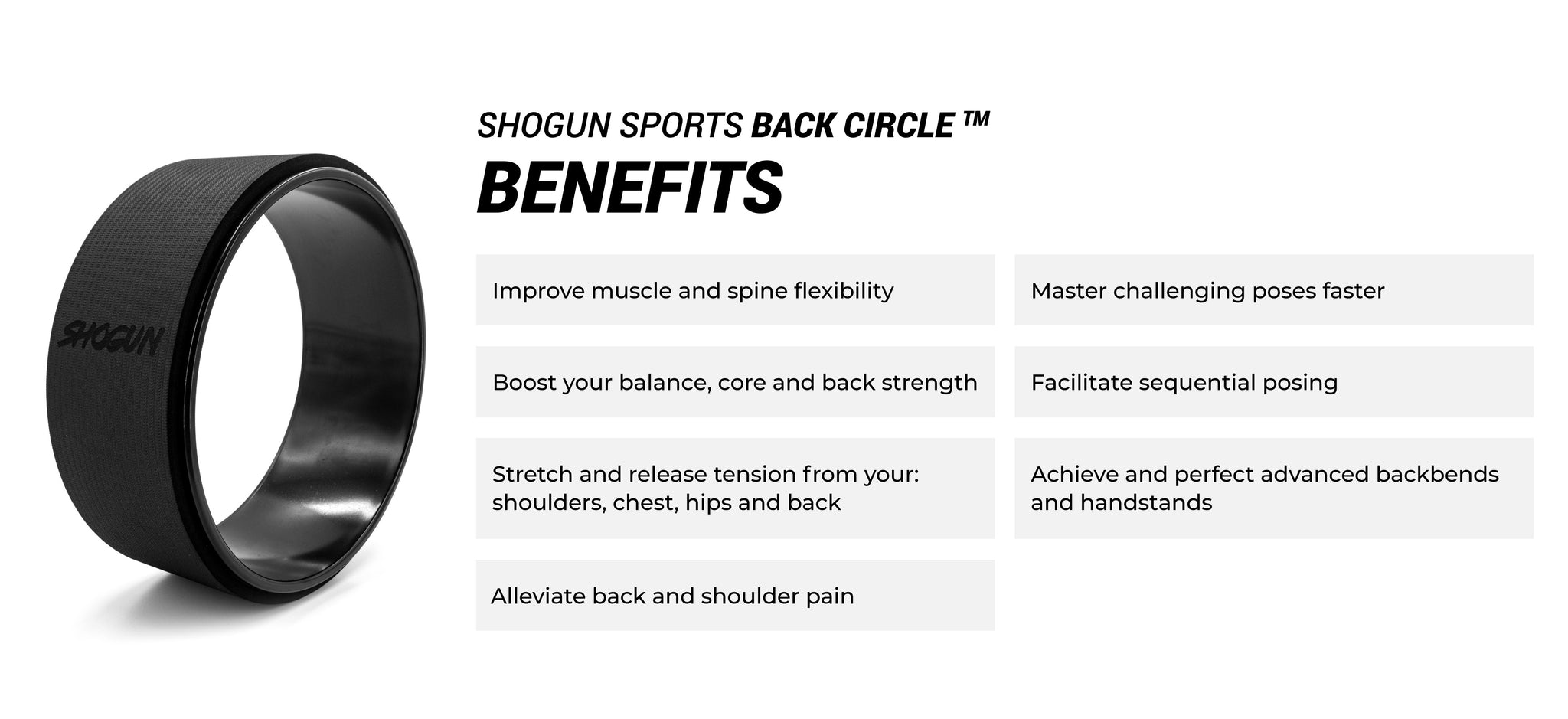 Here some examples of how we use it:  
Open Your Shoulders: Just Roll on it, lie on it, breathe on it, relax on it, and feel your stress melt from your shoulders. It is definitely an exercise in exhaling and letting go, but when you do, it feels so, so good.
Open Your Sides: Really opening up your side body isn't easy. The yoga wheel will open the sides of your body and create all sorts of space to move that you never knew existed. Simply kneel next to the wheel, drape your side over it, and be prepared to lengthen. 
Improve Your Balance: If you can balance on this wheel, you can balance on pretty much anything. Practice first with your hands on the ground, and when you feel steady, test out your favorite standing poses on the yoga wheel Doing this on soft ground or with a wall nearby is highly recommended!
Our Yoga Wheel Specs:
Color: Black and White / Black and Black
Height: 12"
Width: 5"
Weight: 3 LBS
Material: Eco-friendly TPE
OVERVIEW
SHOGUN Sports ships to all 50 U.S. states, Washington D.C., U.S. Territories, and Minor Outlying Islands. We also ship to P.O.Boxes and APO/FPO addresses.
We offer free standard shipping* to the 48 continental United States on most orders.
Orders are processed Monday - Friday (excluding holidays).
Orders placed on weekends will ship the following Monday, excluding holidays.
Orders received by 12:30pm PST typically ship same business day.
Ground delivers Monday thru Saturday.
SERVICE OPTIONS & DELIVERY TIMES

U.S. 50 STATES, WASHINGTON D.C. & P.O. BOXES
Ground: 2-7 business days from ship date (5-10 days for Alaska/Hawai'i)
2-Day: 2 business days from ship date
Next Day: 1 business day from ship date
Note: Shipments to P.O. Box addresses in the U.S. must select Ground shipping. These shipments can only be delivered by USPS and will be automatically changed to a USPS carrier method. P.O. Box deliveries typically take 5 - 10 business days.
U.S. TERRITORIES, MINOR OUTLYING ISLANDS, & APO/FPO ADDRESSES
USPS Priority International: 6-10 business days from ship date
INTERNATIONAL SHIPPING OPTIONS
SHOGUN Sports offer shipping to most countries.
For international orders placed via our U.S. website, we ship from our U.S. fulfillment centers using different shipping options depending on your selection at checkout. Average delivery times will be displayed at checkout but may be longer due to customs.
Please note when ordering from our U.S. website, customers are responsible for ALL duties and local taxes.
We are unable to mark items as "gift" or "sample" to lessen duty charges
* We reserve the right to delay shipping orders in case of unforeseen circumstances.
*Our FREE shipping policy only covers continental U.S. EXCLUDING Alaska/Hawaii/Puerto Rico, please contact us direct for shipping limitations/inquires.
*Direct inquiries can be placed on our contact page or emailed to info@shogunsports.com