The Shogun Sports Medicine Balls are individually constructed for even weight distribution and double stitched to comply with the highest standards. These Med balls are sturdy, rugged, and built to take the abuse of hard work on a daily basis. Tested and approved by Cross Fit gyms, Personal Trainer and US Veterans.
The interior filling is has been specially created to help the ball keep its shape over repeated use. Each Shogun Sports Medicine Ball has been tested for balance to ensure the internal weight is evenly distributed.
The Shogun Sports Medicine Balls features a grippy faux leather outside yet soft inside. The softer cover and padding make them easier to catch after you throw them against the wall. Each Wall Ball comes with two loops on the side allow you to pick up the ball with ease.
The Shogun Sports Medicine Balls are highly versatile workout tools. Making them perfect for a wide variety of exercises including wall ball throws, core twists, squats, sit-ups, presses, CrossTraining/HIIT and endurance workouts.
Without a doubt the Shogun Sports Medicine Balls are a must have in every Garage/Home Gym or Training Studio. These Med Balls are great for anyone that is looking to add some variation to a workout routine to keep it dynamic and challenging.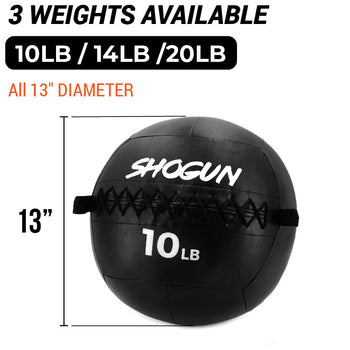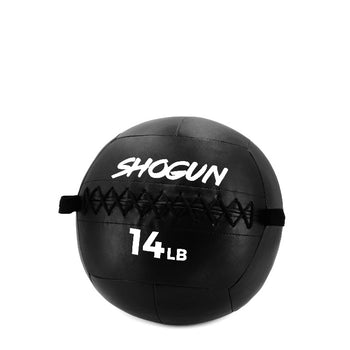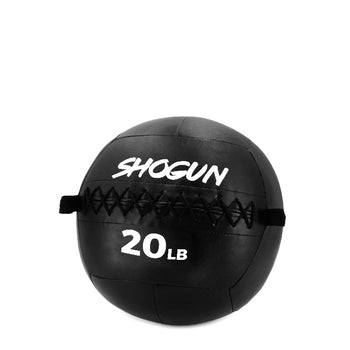 NOT FOR SLAMMING: Please note that these Wall Balls are not designed for slams. Slamming these Medicine Balls to the ground might cause loss of shape and uneven weight distribution. 
OVERVIEW
SHOGUN Sports ships to all 50 U.S. states, Washington D.C., U.S. Territories, and Minor Outlying Islands. We also ship to P.O.Boxes and APO/FPO addresses.
We offer free standard shipping* to the 48 continental United States on most orders.
Orders are processed Monday - Friday (excluding holidays).
Orders placed on weekends will ship the following Monday, excluding holidays.
Orders received by 12:30pm PST typically ship same business day.
Ground delivers Monday thru Saturday.
SERVICE OPTIONS & DELIVERY TIMES

U.S. 50 STATES, WASHINGTON D.C. & P.O. BOXES
Ground: 2-7 business days from ship date (5-10 days for Alaska/Hawai'i)
2-Day: 2 business days from ship date
Next Day: 1 business day from ship date
Note: Shipments to P.O. Box addresses in the U.S. must select Ground shipping. These shipments can only be delivered by USPS and will be automatically changed to a USPS carrier method. P.O. Box deliveries typically take 5 - 10 business days.
U.S. TERRITORIES, MINOR OUTLYING ISLANDS, & APO/FPO ADDRESSES
USPS Priority International: 6-10 business days from ship date
INTERNATIONAL SHIPPING OPTIONS
SHOGUN Sports offer shipping to most countries.
For international orders placed via our U.S. website, we ship from our U.S. fulfillment centers using different shipping options depending on your selection at checkout. Average delivery times will be displayed at checkout but may be longer due to customs.
Please note when ordering from our U.S. website, customers are responsible for ALL duties and local taxes.
We are unable to mark items as "gift" or "sample" to lessen duty charges
* We reserve the right to delay shipping orders in case of unforeseen circumstances.
*Our FREE shipping policy only covers continental U.S. EXCLUDING Alaska/Hawaii/Puerto Rico, please contact us direct for shipping limitations/inquires.
*Direct inquiries can be placed on our contact page or emailed to info@shogunsports.com